Star City, Pershing County, Nevada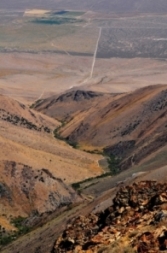 Star City from Star Canyon


Star City was a mining boom town in Pershing County, Nevada. It was located in the Star Mining District and was established in 1861 when rich silver ore deposits were discovered in the area. During its height from 1864 to 1865 the town was home to 1.200 people. It also housed two hotels, three general stores, a Wells-Fargo office, a church and more than a dozen saloons. The largest mine in the Star Mining District was the Sheba Mine, which produced about $5 million in silver by 1868. That same year the ore deposit began to run out. By 1871 only 78 people remained in Star City. Today the only reminders of the town are crumbling foundations and rusted mill equipment.
---
Old Pioneer Garden

The Old Pioneer Garden Country Inn is a Bed and Breakfast located within an oasis of Northern Nevada's high desert, dates back to 1861. The inn was built the same year that silver prospectors toured the area and established the village of Unionville. Among those seeking fortune in those early days was Samuel Clemens (a.k.a. Mark Twain). His Unionville cabin remains standing.
For information or to make reservations call 775-538-7585
---
Dun Glen, Nevada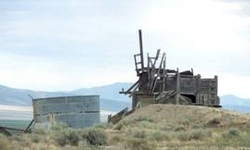 Dun Glen (later Chafey) is a ghost town in Pershing County, Nevada, north of the present community of Mill City. Founded in 1862, it was a silver mining community. It was named after Angus Dunn, its first settler. The population soon reached 250. In 1863 the Sierra Mining district was formed 10 miles northeast of Mill City, with Dun Glen as its business center. At the towns request, a small army garrison was stationed at Camp Dun Glen, within the town to protect the miners from Indians in the early part of the Snake War. By the 1860s Dun Glen was one of the largest towns in northern Nevada. By the 1870s it had three stamping mills, but by the 1880s mining declined and the population also had declined to a population of 50. By 1894 it was nearly deserted. A new silver strike was made in 1908 resulting in the creation of a new larger city, Chafey, named after E.S. Chafey, owner of the Chafey Mine. In the 1913s mining operations ceased, and the population again declined and the town was abandoned again. Little is left of the old town except a few stone foundations.
---